Public Cloud (IaaS)
Infrastructure as a Service (IaaS) is a model of cloud computing, which allows businesses to avoid investments into infrastructure and acquisition and costs for its preservation and maintenance. Resources necessary for business operations - servers, data repositories, network components, software and its servicing - are provided as a service for a period needed. From now on you can invest the time and money saved into your business development. Entire technical infrastructure will be provided for you by Baltneta – the only partner of VMware vCloud Powered in the Baltics.


Top level infrastructure
The hosting service allows even small and medium enterprises to use top level technologies for affordable price.
Management portal
Management portal allows controlling all the parts of the virtual datacentre infrastructure in browser window.
Data security
Data security is guaranteed by isolation of virtual datacentres, VPN networks, firewalls and data backups.
Migration assistance
Baltneta project managers will help creating a system migration plan to assure maximum user satisfaction and minimum system disturbances.
Maintenance
Certified professionals in VMware, data transfer, security and datacentres assure stable operation of all the parts of the infrastructure.
Guaranteed resources
Virtualisation technologies we use assure that a neighbour in your virtual datacentre cannot use your CPU, RAM or data array resources.
About specialists
As a leading provider of VMware virtualization services in Lithuania, we also attend virtualization platforms by other vendors - Microsoft Hyper-V, KVM, and Citrix Xen. We continually invest in the technical and security expertise of our employees, therefore, our client systems are attended and managed by IT professionals holding certificates, such as VMware Certified Professional (VCP), VMware Certified Professional Cloud (VSP-Cloud), VMware Business Continuity Technical, Virtualizing an Oracle Database with VMware, Virtualizing Microsoft Exchange with VMware, VMware VSP - BC, VMware VSP - IV, VMware Virtualization of Business Critical Applications (VTSP - VBCA).
About technologies
The resource rent service uses Intel Xeon Gold 6248 (20 cores) and next-generation Ice Lake Intel Xeon Gold 6348 (28 cores) processors as well as IBM FlashSystem 9200 NVMe, IBM FlashSystem 9500 NVMe, Dell EMC Storage SC7020 (SSDs) and Dell EMC Storage SC9000 (SSDs) data arrays.
VMware vSphere virtualization platform (
Enterprise Plus
version) provides high reliability and resource control, also enables fast server development. Juniper Networks network equipment ensures network performance and reliability. The company is one of the leaders in high-performance data centre networking equipment.
The service is provided at certified Tier 3 compliant data centres owned by Baltneta. Veeam data backup and replication solution is used for data security. Copies are stored in a remote data centre.
Why cloud computing?
Cloud computing and IaaS allow using IT resources flexibly adapting to the actual needs of your business. Increase your resources just for one day, when you generate reports, for a week – when you offer clearance, for a month – when you change systems. When a virtual data centre is no longer needed, you will delete it and stop paying for it.
Trustworthy
Tier 3 data centre, VMware virtualization (Enterprise Plus), automatic resource balancing (DRS), Dell and HP equipment with manufacturer support N+1 redundancy, remote data backup, 24-hour support and monitoring, employee involvement in continuous improvement, learning...
Trustworthy
...from our own mistakes – a way to ensure our customers sleep more peacefully.
Low cost
If, when comparing private infrastructure with cloud computing, we are able to estimate downtime costs, evaluate human resources, high availability electricity, cooling, data backup, monitoring, and other costs, due to economies of scale cloud computing...
Low cost
...will be a cheaper solution.
Convenient
You will operate virtual servers, data arrays, or network settings from the convenient and easy-to-understand VMware vCloud control panel. You will be able to download both your own operating system images and use the ones available from public library.
Quick
It will take maximum 1 minute to create a new virtual data centre. You will not have to wait until the hardware is delivered, installed and tested or the operating system is installed or the data transmission network is configured – as usual, it may take up to several...
Quick
...months. With cloud computing, there is more time left for the actual business solutions and transactions.
Management portal
Creation of new server
A virtual server can be created by choosing an operating system and processor, memory and capacity parameters.
Modification of server parameters
Depending on operating system, server parameters can be changed without even restarting the server.
LAN/WAN setup
Set the servers to have Internet connection and the servers with internal network of the datacentre only. Configure VPN network.
Firewall management
Create firewall rules to define what types of traffic are allowed or blocked and which ports must be closed or open.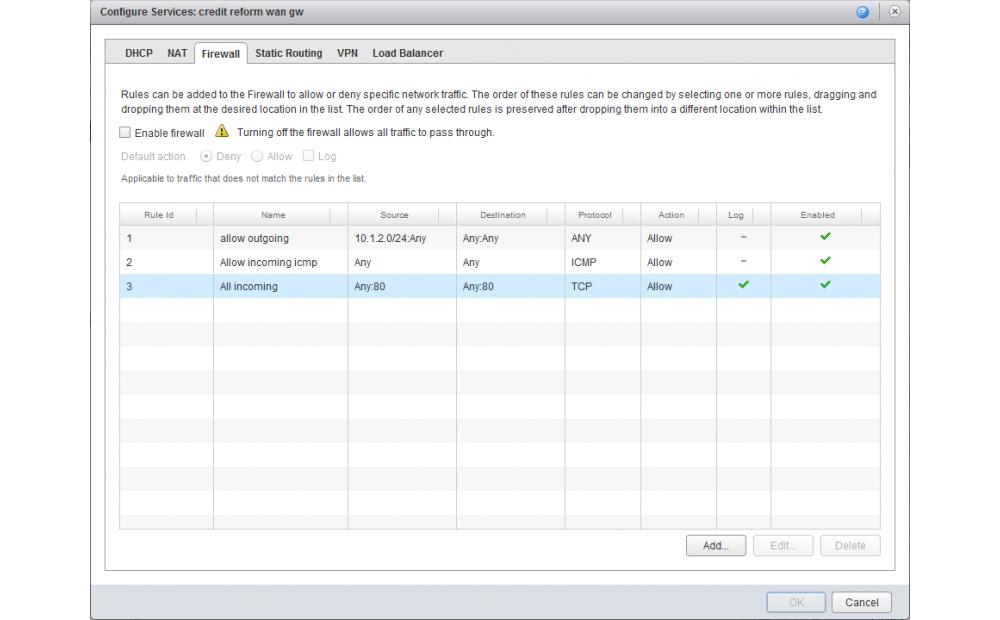 Setup of IP addresses
Set static IP addresses, ranges of IP addresses, and manage DNS records.
OS images
Use a public library of OS images or create a private one. Using the library, a new server can be created in a few minutes.
Snapshots
Make a snapshot of your virtual server and do not hesitate attempting an application update without fear to ruin the system.
Signing in to servers via console
Using a console, you can sign in to servers directly from a browser. This will reduce server administration time.